Big Wipes Hand Cleaning Products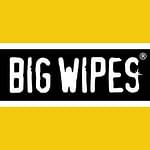 Your hands are your most valuable asset, so it's worth looking after them. That was the premise behind the launch of the hugely succesful Big Wipes brand of cleaning formulas. Ideal for carrying in a tool box or bag, Big Wipes supply hand cleaning sprays and wipes in handy portable canisters. They have solutions for everyday muck and grime as well as tougher substances such as paint, varnish, sealant, silicone, adhesive, grease and PU foam.

About The Products

Big Wipes hand cleaning wipes are available in Multi Purpose, Heavy Duty and Industrial formulas. We also stock Big Wipes Power Spray and Power Gel.
Top Picks