1001 Carpet Cleaning Products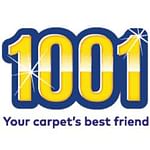 The original 1001 Cleaning Fluid started life in the 1940s as a general purpose cleaning product that had "1001 uses around the home". Over the years they focussed more and more on carpet cleaning products and today they have one of the most complete ranges of carpet care solutions on the market. In 2004 they became part of the WD40 group. WD40 have always been against animal testing, and the 1001 range is certified cruelty free.

About The Products

1001 make products for cleaning and refreshing carpets, including Stain Removers and Carpet Machine Solution for use with carpet cleaning machines, as well as quick and easy sprays which come in a range of fragrances and are designed to neutralise odours deep within the carpet so you can quickly freshen up a room without having to get the vacuum cleaner out every time.
Top Picks