Karcher Home and Garden Warranty

The Karcher Home and Garden range is designed to help you keep your home looking at it's best. Their quality control tests each, and every, machine that leaves their manufacturing plants, to ensure that everything is performing as it should before it reaches the end user. Please note that Karcher Home and Garden products are only guaranteed for domestic use, and are not intended for professional or commercial working environments.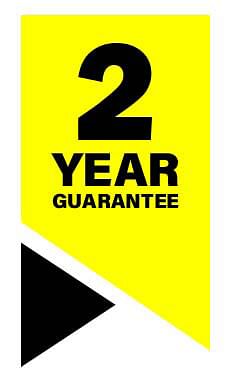 All Karcher Home and Garden machines come with at least two year warranty as standard. This is a manufacturer backed warranty at the discretion of, and subject to an inspection by, the manufacturer within the terms and conditions of fair wear and tear and correct usage of the tool.

You can find the Karcher Warranty for Home and Garden products here: Guarantee for Home and Garden products

Warranty periods for Home and Garden machines in domestic use:

Pressure Washers


| Series | Warranty period |
| --- | --- |
| K 2 Series | 2 years |
| K 3 Series | 2 years |
| K 4 Series | 2 years |
| K 5 Series | 3 years |
| K 7 Series | 3 years |
Other Home and Garden categories
| Product category | Warranty period |
| --- | --- |
| Mobile Cleaners | 2 years |
| Steam Cleaners | 2 years |
| Window Vac | 2 years |
| Hard Floor Cleaners | 2 years |
| Handheld Vacuum Cleaners | 2 years |
| Wet and Dry Vacuum Cleaners | 2 years |
| Cordless Sweepers | 2 years |
| Push Sweepers | 2 years |
| Floor Polishers | 2 years |
| Garden Tools | 2 years |
Technical Questions
For any technical enquiries call Karcher direct on 01295 234 020.
I have an Issue with my Karcher Home and Garden product
We will exchange or refund within the first 30 days if a manufacturers fault is found. This is subject to a manufacturer's inspection & authorisation, and please note you must contact Karcher in the first instance – this enables them to run through a few basic diagnostic checks to verify the issue and ascertain if the tool needs to be returned to a service centre or can be fixed with a user-replaceable part. If your tool develops a fault thereafter or during its extended warranty period, you must go through the manufacturers repair procedure using the contact details on this page.

In the event of an issue with an individual component please contact Karcher directly for Assistance.
Contact Details
Karcher (UK) Ltd
Karcher House
Brookhill Way
Banbury
OX16 3ED

Tel: 01295 234 020
Or to email, Click Here