Faithfull Tools Categories
↑ Browse the categories above to see all ↑
Faithfull Tools Top Picks
Faithfull Tools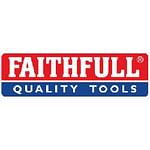 Faithfull Tools are a Norwich based supplier of tools, accessories and electrical goods designed for the trade, DIY and garden markets. Established in 1989, their present day catalogue covers a huge range and their diverse selection of functional and affordable products has resulted in them becoming one of the best selling tool brands within the UK and Ireland.

About The Products

With nearly 3,500 items listed in the Faithfull Tools catalogue, covering hand tools and power tool accessories, woodworking, building & construction, plumbing, electrical, automotive, decorating, engineering, household and gardening, Faithfull provide solutions for a huge range of applications.

Faithfull are especially successful at providing everyday essentials like power tool accessories with an affordable price tag which helps to save money in the long run.