Bollom Fire Protection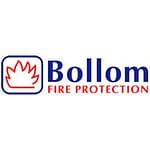 Bollom are based in County Durham and the Bollom Fire Protection range is one of the most comprehensive in the UK. All Bollom products have been fully fire tested to BS476:Part 20/21:1987 and are ASFP approved. Tor Coatings, who manufacure the range, have ISO 9001 accreditation and are a member of the British Coatings Federation.

About The Products

The Bollom Fire Protection range is manufactured by Tor Coatings in the UK. They offer fire protective and decorative coatings for structural steelwork, timber and broad wall and trim areas. Certificates of Conformance and Installation (which may be requested by the architect, main contractor, quantity surveyor or building control officer) are available from Bollom on request.
Top Picks