Arrow Fastening Tools Categories
↑ Browse the categories above to see all ↑
Arrow Fastening Tools Top Picks
Arrow Fastening Tools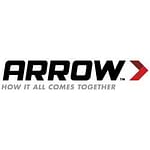 Founded in New York City in 1929, the Arrow Fastener Company manufactures staplers, nail guns, riveters and glue guns, alongside the associated consumables for these tools. In 1957, they released what would go on to become the best selling heavy duty staple gun in the world; the T50. This iconic machine soon gained a reputation for dependability and durability and has remained in production ever since, continuing to be churned out from Arrow's manufacturing facility in New Jersey to this day. Used everywhere from school classrooms to building sites, Arrow's fastening tools are durable, reliable and affordable, making them a popular choice for everyday users.

About The Products

Tried and tested for more than 50 years, the T50 is the best selling of all Arrow's staple guns, though their range includes a comprehensive selection of machines suitable for a variety of household, DIY and professional applications. Arrow also manufacture an extensive range of staples.

Also manufactured in the USA and the preferred glue gun of choice for many users, the TR550 has a high volume melt chamber for fast and steady flow of adhesive, coupled with a robust build for a long lifetime.

For fastening of a more industrial nature, we also stock a small selection of Arrow riveters and rivet sets.