Stanley Warranty

STANLEY is confident of the quality of its products and offers an outstanding guarantee for users of the product. This guarantee statement is in addition to and in no way prejudices your contractual or statutory rights. The guarantee is valid within the United Kingdom and in addition to the territories of the Member States of the European Union and the European Free Trade Area.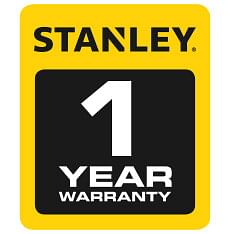 If your STANLEY product becomes defective due to faulty materials or workmanship within 12 months from the date of purchase, STANLEY guarantees to replace all defective parts free of charge or – at our discretion – replace the unit free of charge provided that:


• The product has been used in accordance with any instructions provided and has not been subject to misuse, excessive force, load or mechanical impact
• The product has been subject to fair wear and tear
• Repairs have not been attempted by unauthorised persons
• Proof of purchase is produced
• The STANLEY product is returned complete with all original components
• The product has not be purchased as used or second hand
This guarantee does not cover consumable products and does not exclude the obligation of the user to maintain or calibrate the product where required.
* Most STANLEY Fatmax power tools have a 3 year guarantee if the product is registered online within 4 weeks of purchase. Please click
here
to register your product.
This is a manufacturer backed warranty at the discretion of, and subject to an inspection by, the manufacturer within the terms and conditions of fair wear and tear and correct usage of the tool. Damage caused by accident, misuse and unauthorised repair or modification is not covered.
I have an issue with my STANLEY product
We will exchange or refund within the first 30 days if a manufacturers fault is found. This is subject to a manufacturer's inspection & authorisation, and please note you must contact STANLEY in the first instance – this enables them to run through a few basic diagnostic checks to verify the issue and ascertain if the tool needs to be returned to a service centre or can be fixed with a user-replaceable part. If your tool develops a fault thereafter or during its extended warranty period, you must go through the manufacturers repair procedure using the contact details on this page.

In the event of an issue with an individual component please contact STANLEY directly for assistance.
Contact Details
STANLEY (link)

Telephone: +44 (0) 1753 260104
7 Days a Week 8am to 10pm