Festool Warranty

Festool manufacture high end tools for the professional market, specialising primarily in woodworking power tools. They have a large following in the carpentry and woodworking trades, where machines such as the Festool TS55 Plunge Saw and the Festool CT Series of Dust Extractors are highly regarded as best in class for their exceptional performance.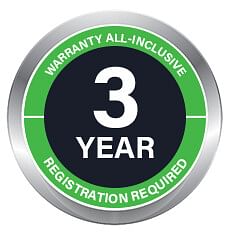 All Festool power tools come with a 12-month manufacturer warranty which is independent from any other agreements. This 1 year warranty can be extended by an additional 2 years (*) to bring the total warranty period up to 3 years. The warranty registration must be completed with your details. You will need to provide a valid email address, otherwise the tool cannot be registered for an extended warranty. The warranty registration must be completed within 30 days after the date of purchase. *The additional 2-year warranty does not apply to H Class Dust Extractors.

This is a manufacturer backed warranty at the discretion of, and subject to an inspection by, the manufacturer within the terms and conditions of fair wear and tear and correct usage of the tool. Damage caused by accident, misuse and unauthorized repair or modification is not covered.

You can find the Festool Warranty Home Page here: : Festool Warranty All-inclusive
Technical Questions
For any technical enquiries call Festool direct on 01284 760 791
I Have an Issue with My Festool Tool
We will exchange or refund within the first 30 days if a manufacturers fault is found. This is subject to a manufacturer's inspection & authorisation, and please note you must contact Festool in the first instance – this enables them to run through a few basic diagnostic checks to verify the issue and ascertain if the tool needs to be returned to a service centre or can be fixed with a user-replaceable part. If your tool develops a fault thereafter or during its extended warranty period, you must go through the manufacturers repair procedure using the contact details on this page.

In the event of an issue with an individual component please contact Festool directly for Assistance.
Contact Details
Festool UK Ltd
Gottlieb Stoll House
1 Anglo Saxon Way
Bury St Edmunds
Suffolk
IP30 9XH


Telephone: 01284 760 791 (Monday – Thursday 9.00am – 4pm, Friday 9.00am – 2.30pm)
Or email: Click Here