Wera Tools Categories
↑ Browse the categories above to see all ↑
Wera Tools Top Picks
Wera Tools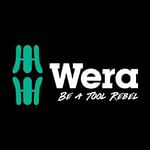 Befitting the popular German tradition of combining lost of words together, Wera's full title is Wera Werk Hermann Werner GmbH & Co. KG, though they are more commonly known worldwide as Wera tools. One of the leading German hand tool manufacturers, they specialise in screwdriving and Socketry products, and have been the recipients of numerous design awards since they were first established in Wuppertal in 1936. Wera remain headquartered in Wuppertal and also operate a production facility in the Czech republic.

About The Products

Wera products have a strong user base in the professional sector and include screwdrivers, screwdriver bits, ratchets and socketry, nut spinners and L-keys.

They are especially well known for their screwdrivers, including the distinctive Kraftform range, which comprises our best sellers in the category. Using a specially designed combination of ergonomic soft zones and smooth, hard zones, they are made to fit the contours of the hand and remain comfortable to use even over extended periods. As well as the standard and stainless steel Kraftform ranges, they are also available in VDE insulated options, offering Pozi, Phillips and parallel slotted variants suitable for use by professional electricians.

Wera's Impaktor Screwdriver bits are designed for use with impact drivers and ensure an above average service life even under extreme conditions thanks to a best possible utilisation of the material properties and optimally designed geometry. The rough diamond coating on these products reduces the danger of any slipping out of the screw head due to the enhanced frictional resistance.