Webb Garden Machinery Categories
↑ Browse the categories above to see all ↑
Webb Garden Machinery Top Picks
Webb Garden Machinery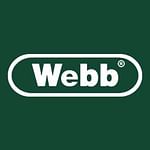 Webb is a registered trademark of G.J. Handy & Co Ltd, who were founded in 1938. The Webb name can be traced back as far as the 1850's when H.C. Webb, as they were called, produced bicycle parts, and it wasn't until the late 1920's that they began producing lawnmowers. G.J. Handy &Co Ltd are a part of Handy Distribution, the UK's largest wholesaler of Garden Machinery. The business is based in Dorcan, Swindon where their large premises include state of the art warehousing facilities. In 2011 the Webb range of hand, cylinder, rotary and ride on mowers was launched, and these have been very well received.

About The Products

You will find that Webb have lawnmowers to suit every requirement. No matter what type of lawn you have or the size of your garden, the Webb range of lawnmowers will ensure a neat and tidy finish to your lawn every time. Petrol mowers make up the bulk of this division and several are equipped with engines manufactured by Briggs & Stratton, an American brand which has specialised in lightweight and durable lawnmower engines since the first rotary lawnmowers came to the market over 50 years ago. Webb also manufacture manual lawnmowing machines like the H12R push hand cylinder mower; these push mowers make a quiet, economical and environmentally friendly solution to keeping your lawn in check, and will especially appeal to users with smaller premises.

As well as these core ranges, Webb manufacture a selection of additional petrol garden tools including strimmers, brush cutters, hedge trimmers, leaf blowers and garden vacs. These powerful machines offer a great choice for inclement weather or for ease of access to areas where no electrical outlet is readily available.