Rust Oleum Paint and Treatments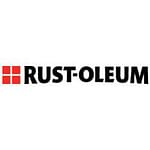 A well known manufacturer of protective paints and treatments, Rust Oleum was founded in the coastal city of Evanston, Illinois by Captain Robert Fergusson, after he realised that fish oil inhibited the spread of corrosion on the metal deck of his boat. Inspired by this revelation, he developed a product suitable for commercial release and established the company in 1921. Remaining a family owned business until 1994, Rust Oleum is now part of RPM International, and supplies a range of paints, treatments and tools to worldwide industrial, automotive and consumer markets.

About The Products

A professional one-coat maintenance stystem for metal, the Rust Oleum CombiColor range includes a wide selection of colours and finishes in paint tin and aerosol form.

The Rust Oleum Hard Hat series is a range of fast drying aerosol primers and top coats designed for industrial machinery & equipment.

Rust Oleum also supply a range of floor paints, waterproofing compounds and line marking sprays.
Top Picks