Ozito Garden and Power Tools Categories
↑ Browse the categories above to see all ↑
Ozito Garden and Power Tools Top Picks
Ozito Garden and Power Tools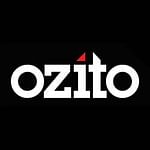 Ozito Tools were founded in Australia in 1993, and Ozito Garden & Power Tools are designed to provide homeowners, gardeners and DIYers with cost effective solutions to a range of jobs around the home. Ozito are much better known in their native Australia, as they are still fairly new to the market in the UK and Ireland but they have a large catalogue of power tools and over 25 years of experience. Despite their affordable price tag, Ozito Tools have some of the best warranties on the market, and many power tools in the range are backed by an unbeatable 5 year guarantee! (domestic use only)

About The Products

Ozito Garden Tools include a range of solutions for tackling common jobs around the garden. Ozito Lawnmowers and Grass Trimmers help you keep your lawn in trim during the warmer months, and you can also find Garden Saws and large hand tools like Garden Rollers.

Ozito Electric Power Tools are powered via a standard mains socket and are some of the most affordable power tools on the market, making them ideal for DIYers and homeowners.

Ozito Cordless Tools let you work all over your home without having to worry about the length of your power lead or the hazards and inconveniences of petrol. Ozito use the Power X Change system of batteries, which means their 18v cordless tools also share battery compatibility with Power X Change tools from Einhell. This allows you to add tools from Einhell to your collection and share the same set of batteries and charger between all of them.