Blackfriar Dyes, Paints and Stains Categories
↑ Browse the categories above to see all ↑
Blackfriar Dyes, Paints and Stains Top Picks
Blackfriar Dyes, Paints and Stains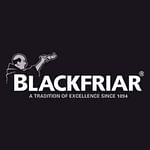 Blackfriar specialise in paints and varnishes as well as wood care and preparation products. Established in 1894 in Bristol, they expanded rapidly and became a key supplier to the motor industry in the 1920s, providing black paints for use in brake shoes for cars and heavy goods vehicles. With over 100 years of experience, they understand the importance of providing you with excellent results and this is reflected in the quality of their products. With ranges suitable for DIY and professional applications, Blackfriar products deliver exceptional, lasting finishes that you can be proud of.

About The Products

From wood dyes, oils and varnishes to specialist paints such as their quick drying white radiator paint, Blackfriar are one of the top brands for DIY and professional projects around the home, workshop or workplace. Their paint and interior wood care ranges provide an extensive selection of paints and varnishes for common projects such as flooring or renovation work. Blackfriar's Chalkboard paint is also a popular line for creating DIY blackboards in the home, as well as in schools and educational facilities.

Blackfriar's external products are just as essential as the internal ranges. As well as popular fence and shed treatments such as exterior wood stain and wood preservative, you will find additional paints and finishes for a wide variety of outdoor surfaces. For instance if you're looking to clean up your door knockers, their enamel paint is a tough and hardwearing solution that provides a gloss enamel finish. Whatever the application, Blackfriar are sure to provide you with the paint, varnish or preparation essentials you need to get the job done.