Black and Decker Warranty

Black & Decker manufacture power tools and electrical appliances for the domestic market, and they have a worldwide network of authorised repair agents who are able to service any products that develop a fault during the warranty period. As one of the largest manufacturers of power tools in the world, they have a huge catalogue of spare and replacement parts to ensure that any products in for servicing can be repaired quickly and easily, with less disruption to the end user.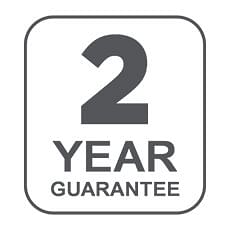 All Black & Decker power tools come with a two year warranty as standard. Please note that Black & Decker tools are guaranteed for domestic use and the warranty will be void if the product has been used for trade, professional or hire purposes. The warranty will not apply if the product has been subjected to misuse or neglect, or has sustained damage through foreign objects, substances or accidents. Certain items and components are considered consumables and are not covered by warranty, for example drill bits, lawnmower blades and other power tool accessories.

This is a manufacturer backed warranty at the discretion of, and subject to an inspection by the manufacturer within the terms and conditions of fair wear and tear and correct usage of the tool.

You can find the Black & Decker Warranty Home Page here: Black & Decker 2 Year Warranty

Find your nearest authorised repair agent here: Black & Decker Service Agent Locator
Technical Questions
For any technical enquiries call Black & Decker direct on 1753 260090.
I have an Issue with My Black & Decker Tool
We will exchange or refund within the first 30 days if a manufacturers fault is found. This is subject to a manufacturer's inspection & authorisation, and please note you must contact Black & Decker in the first instance – this enables them to run through a few basic diagnostic checks to verify the issue and ascertain if the tool needs to be returned to a service centre or can be fixed with a user-replaceable part. If your tool develops a fault thereafter or during its extended warranty period, you must go through the manufacturers repair procedure using the contact details on this page.

In the event of an issue with an individual component please contact Black & Decker directly for Assistance.
Contact Details
Black & Decker Service Technical Helpdesk

1753 260090 (7 Days a Week 8am to 10pm)

Submit a request here: Black & Decker Request